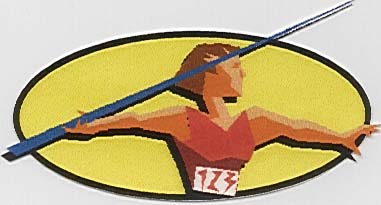 The Javelin Man
RON JOHNSON REBUILDING
Quality Rebuilt Javelins Since 1982

Javelin Training Aids
and Equipment

Authorized Distributor for
Stackhouse/Nordic
OTE, Gill, Pacer, Aussie & Denfi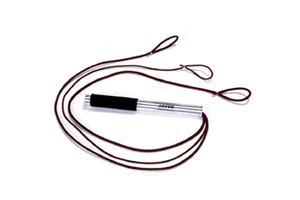 TJAV800 - Javee Javelin Trainer
800gm, 2lb UPS
800 gm javee
Shipping: UPS 2 lb.
$48.90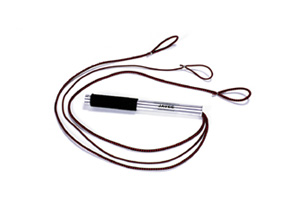 TJAV600 - Javee Javelin Trainer
The Javee was designed as a training aid for javelin throwers that allows them to duplicate the motion and technique incorporate in throwing a real javelin. The elastic cords allow the thrower to vary the amount of resistance. The use of elastic cords allows the Athlete to practice the javelin throw while reducing the chance of muscle/tendon injuries that can occur while throwing the javelin. Grip diameter of the javee is the actual diameter of a 800 or 600 gram javelin for most realistic feel.
600 gm javee
Shipping: UPS 2 lb.
$48.90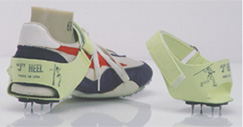 TJHEEL - The "J" Heel
Lighter weight, form fitting! The "J" Heel converts a regular track shoe into a multiple purpose track shoe for jumpers and throwers. Use on plant heel for javelin or plant heel on "J" approach to high jump. This versatile heel can be used by a number of athletics for different events or by one athlete for multi-events. One size fits all -- adjustable, can be used on right or left heel, will not roll or slip, made with high-quality material. TJHEEL is legal in all states for competition as per NFSHSA Rule 7-2-8.
$21.65


TJCASE - Javelin Hard Shell Case
Adjustable length hard shell case allows you to carry 5 men's or women's javelins. Hard shell insures javelins will receive maximum protection.
Shipping: UPS 50 lb. OS1 + AH
$96.80

TJBAG6 - Javelin Bag
Heavy-duty vinyl bag has nylon well handle. Ends are leather reinforced and use velcro fastener for ease in removing and storing javelins. Color is blue and holds 3 javelins.
holds 600 gram
$85.55

TJBAG8 - Javelin Bag
Heavy-duty vinyl bag has nylon well handle. Ends are leather reinforced and use velcro fastener for ease in removing and storing javelins. Color is blue and holds 3 javelins.
holds 800 gram
$90.40

TJIB4 - Iron Javelin Balls
Made for over and under training and developing technique. These iron javelin balls make an excellent training aid at a very affordable price.
400 gram
$9.95

TJIB6 - Iron Javelin Balls
Made for over and under training and developing technique. These iron javelin balls make an excellent training aid at a very affordable price.
600 gram
$9.95

TJIB8 - Iron Javelin Balls
Made for over and under training and developing technique. These iron javelin balls make an excellent training aid at a very affordable price.
800 gram
$9.95

TJIBS - Iron Javelin Balls Set of 3
Made for over and under training and developing technique. These iron javelin balls make an excellent training aid at a very affordable price.
400, 600, 800 gram
$24.15

TRIB4 - Rubber Javelin Balls
Durable rubber balls allow for training indoors during bad weather and the off-season at a very affordable price.
400 gram
$12.65

TRIB6 - Rubber Javelin Balls
Durable rubber balls allow for training indoors during bad weather and the off-season at a very affordable price.
600 gram
$12.65

TRIB8 - Rubber Javelin Balls
Durable rubber balls allow for training indoors during bad weather and the off-season at a very affordable price.
800 gram
$12.65

TRIBS - Rubber Javelin Balls Set of 3
Durable rubber balls allow for training indoors during bad weather and the off-season at a very affordable price.
400, 600, 800 gram
$32.20

TJB4 - Javelin Nockenball
Soft shell javelin ball is made for practicing indoors during bad weather and the off-season. Has same feel as javelin. Just place one knob between fingers for grip and you are ready for practice.
400 gram
$20.75

TJB6 - Javelin Nockenball
Soft shell javelin ball is made for practicing indoors during bad weather and the off-season. Has same feel as javelin. Just place one knob between fingers for grip and you are ready for practice.
600 gram
$21.95

TJB8 - Javelin Nockenball
Soft shell javelin ball is made for practicing indoors during bad weather and the off-season. Has same feel as javelin. Just place one knob between fingers for grip and you are ready for practice.
800 gram
$26.30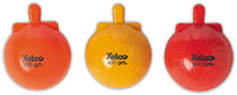 TJBS - Javelin Nockenball Set of 3
Soft shell javelin ball is made for practicing indoors during bad weather and the off-season. Has same feel as javelin. Just place one knob between fingers for grip and you are ready for practice.
400, 600, 800 gram
$63.95

TPJ - Turbojav VII
This soft tip Turbojav is ideal for developing technique this training aid has the feel and performance of a real javelin at a fraction of the cost. Designed to be thrown through the point. Your beginning thrower can get the feel of the javelin and learn the correct technique from the start! UPS 3 lbs.
300 gram - official USTAF weight
Shipping: UPS 1 lb.
$32.45

TPJ4 - Turbojav VII
This soft tip Turbojav is ideal for developing technique this training aid has the feel and performance of a real javelin at a fraction of the cost. Designed to be thrown through the point. Your beginning thrower can get the feel of the javelin and learn the correct technique from the start! UPS 3 lbs.
400 gram
Shipping: UPS 1 lb.
$37.75

TPJLT5 - Long Tom Javelin
Training aid; longer than the TurboJav.
500 gram
Shipping: UPS 1 lb.
$44.90

TPJLT6 - Long Tom Javelin
Training aid; longer than the TurboJav.
600 gram
Shipping: UPS 1 lb.
$49.90

As of this time I do not have a Shopping Cart.
Please call to place your order.

Click on these SALES links below to go to:
Conversions Also Available
To meet the new 2002 High School Rule, and the 1999 IAAF Rules.

To See What Ron Can Do For You, Click Here!
For More Information Contact Owner

Ron S. Johnson
350 Woodland Dr.
Winston, OR 97496

Phone (541) 679-4400
Fax (541) 679-2885

Email ron@thejavelinman.com